Residential Solutions
Imagine reducing or even eliminating your current energy bills. Green energy solutions can save you money.
Solar
A Photovoltaic (PV) system provides clean, green energy without noise or pollution. The efficiency of solar PV increases in colder temperatures, making it particularly well-suited for our climate.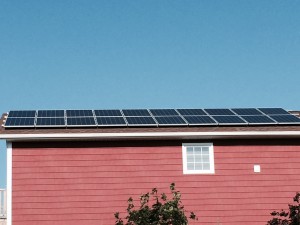 Whether you have a southern exposure for a roof installation or space for a ground mount solar energy system, we can work with you to properly design and install a solar energy package that works for you. The installation, size and specific design will depend on your energy consumption and specific needs – from a back-up power source to a completely off-the-grid system.
We start with an energy audit to determine your energy needs and assess your property to determine the most appropriate system design for your specific location. We then recommend the size of solar array, required battery bank and specific AC inverter required for your home.
Energy Storage
Energy storage solutions such as Ampower AGM battery banks lets you store power for later use, so you can consume all the energy you produce with wind or solar power and control your energy costs. Batteries also provide an energy backup when the power grid is down. The Tesla Powerwall and LG Chem RESU Energy storage systems are just two examples of many new batteries available on the market. Our Wave AC coupled ESS energy storage system is a perfect solution for existing or new solar systems. It comes in various sizes and can be easily expanded for  future needs.
Heat Pumps for Heat and Air-Conditioning
SunAir is proud to supply and install the Daikin brand of quality heat pumps. Daikin's split and multi-split type air conditioning systems offer superior performance, energy-efficiency, and comfort in stylish solutions conforming to all interior spaces and lifestyles.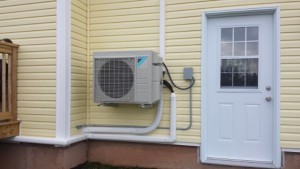 Not only do Daikin heat pumps offer economical heating for residential settings, they can also provide a total solution for domestic heating and hot water supply. Connecting solar collectors to the heat pump system further increases efficiency and savings.
A new heat pump installation for your home – whether it is an existing residence or a new construction – we will start with an energy audit to properly size a home heating and cooling system.
Energy Audits
Not sure where to start? A full energy efficiency audit by our trained auditor will give you a full analysis and report of your energy use and identify opportunities for enhanced efficiency to improve environmental performance and save you money.
Peace of Mind
At SunAir we use Canadian-made products as much as possible. We seek out high quality products with great warranties that make us proud to install and stand behind. Our team is experienced, well-trained and certified to ensure quality workmanship. And we service what we sell so you can rest easy.
Financing and incentives are also available to qualifying homeowners for all the products we sell and install.
Products
SunAir installs and services a variety of products from various manufacturers.  We research what we sell, and only work with high quality products.
The products below is not a complete list, but some products typical of residential installations.  Before we install any products, we carry out our sizing energy audit so so we can recommend the best fit for your precise needs.