Heat Pumps
Air to Air for Cooling and Heating
A heat pump runs on electricity, but it is not electric heat. Instead, it transfers heat from one place to another without the wasted energy that comes from generate and discarding extra heat.
There is always heat in the air, even at cold temperatures. A heat pump transfers that heat using a refrigerant and compressor, pumping warmer air inside from outside to warm a room.  In warmer summer month, the same hardware works in reverse to cool down the house, pumping warmer air from inside to outside. As a result, heat is transferred and not generated, meaning less electricity is needed than other heat sources, making heat pumps more energy efficient and less costly.
Our Heat Pumps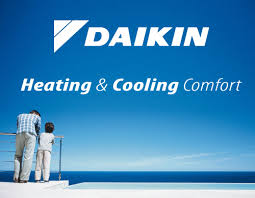 SunAir is proud to supply and install the Daikin brand of quality heat pumps. Daikin's split and multi-split type air conditioning systems offer superior performance, energy-efficiency, and comfort in stylish solutions conforming to all interior spaces and lifestyles. An excellent product warranty from Daikin provides up to 12 years on the compressor, 12 years on parts and 10 years on labour.
We know there are many options in the marketplace for heat pumps. We have researched the options, and believe that Daikin offers the best combination of performance and reliability, all for a reasonable cost. And they back up their products, with one of the best warranties in the business.
SunAir is specially trained and licensed to install and maintain your Daikin heat pumps.
What are the different type of heat pumps?
In general, there are two common types of heat pump installations – split ductless and multi-split ductless.
Split Ductless Heat Pump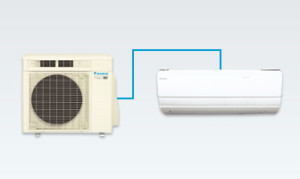 Connects one indoor unit to an outdoor unit.
Installs simply and unobtrusively to buildings with no need for ductwork.
Delivers a sophisticated air conditioning solution to single zone interior spaces at an affordable price.
Provides a simple solution for one-room additions.
Multi-split Ductless Heat Pump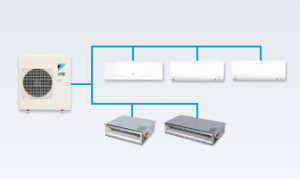 Connects up to eight indoor units to a single outdoor unit.
Installs a complete air conditioning system to multiple zone interior spaces with no need for ductwork.
Provides individual control of room temperature settings.
Enables indoor units of different styles and capacities in one system for customized solutions unique to each residential setting.
Even better – solar powered heat pumps!
Heat pumps already reduce the cost of heating and cooling, but there is an even better solution! Why not capture the power you need to run your heat pump?
At SunAir, we can combine your heat pump with a solar power system, reducing your reliance on outside utilities for even the basic power needed for your heating and cooling.
But what about at night after the sun has set?  We have you covered there also with our energy storage systems.
Contact us, and we can come up with the ideal solution for your heating and cooling needs.
Products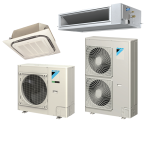 Designed for shops, restaurants and small offices, the SkyAir inverter heat pump Single Zone system is a great option for smaller rooms.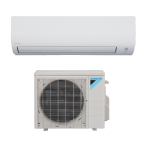 Daikin high-efficiency wall-mounted ductless systems are an inexpensive, energy-efficient solution.